Legal Challenge VII is open: Clarity Frames vs Fungaming
This year's story is about Clarity Frames, a tools developer with a strong position in the games industry, that changes the terms of its licensing agreement – and runs into a problem with Fungaming, a global games studio with offices around the world.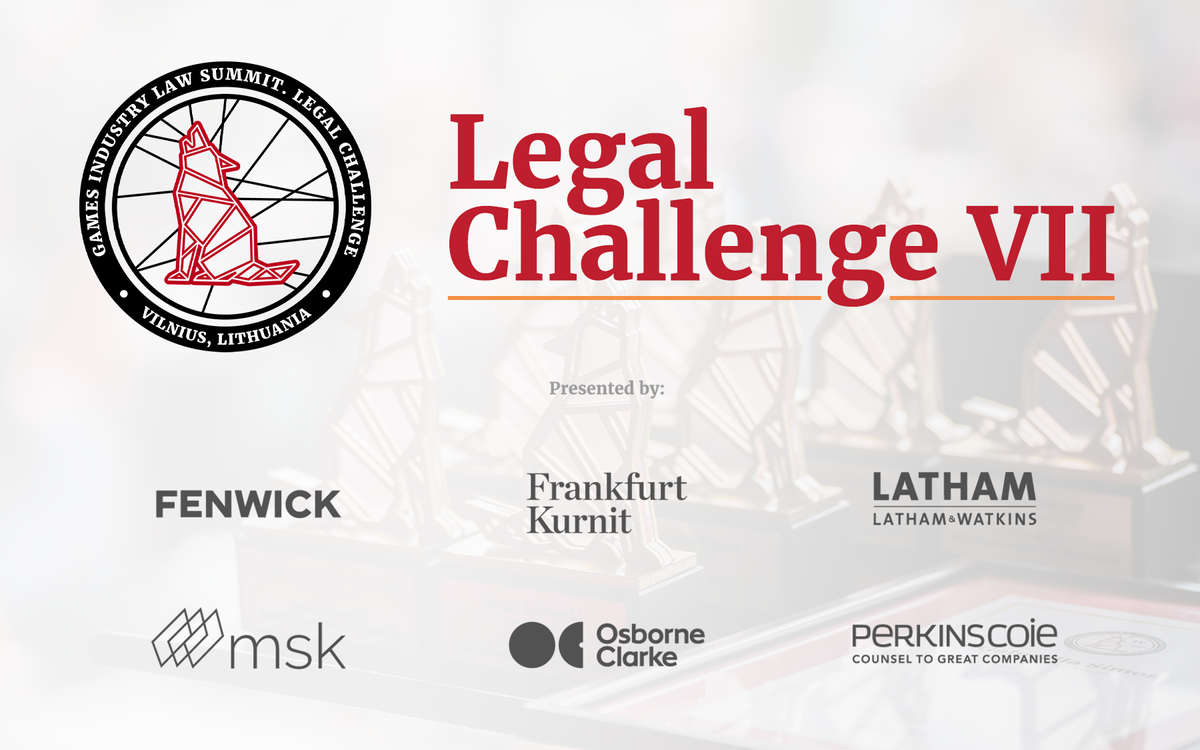 We're thrilled to report that the 7th edition of the games industry's dedicated moot court is now open! 🎉 This year's story is about Clarity Frames, a tools developer with a strong position in the games industry, that changes the terms of its licensing agreement – and runs into a problem with Fungaming, a global games studio with offices around the world.
Below is the summary of the case, and an overview of the moot's rules. We'd appreciate any help in spreading the word about the competition, so that more young lawyers can engage with our industry. Please share this issue or the link to LC's website? Grazie mille!
What is Legal Challenge?
If you haven't followed us before: we're an community-run moot court court that focuses solely on the issues related to the international game industry.
Our mission is to discover new legal talent for the games industry. The competitors get to meet all the wonderful judges + most importantly, the 4 teams that make it to the semifinals get complimentary access to the Summit in Vilnius (which is where you can meet all the industry veterans in person; hats off to our sponsors for making the complimentary access possible).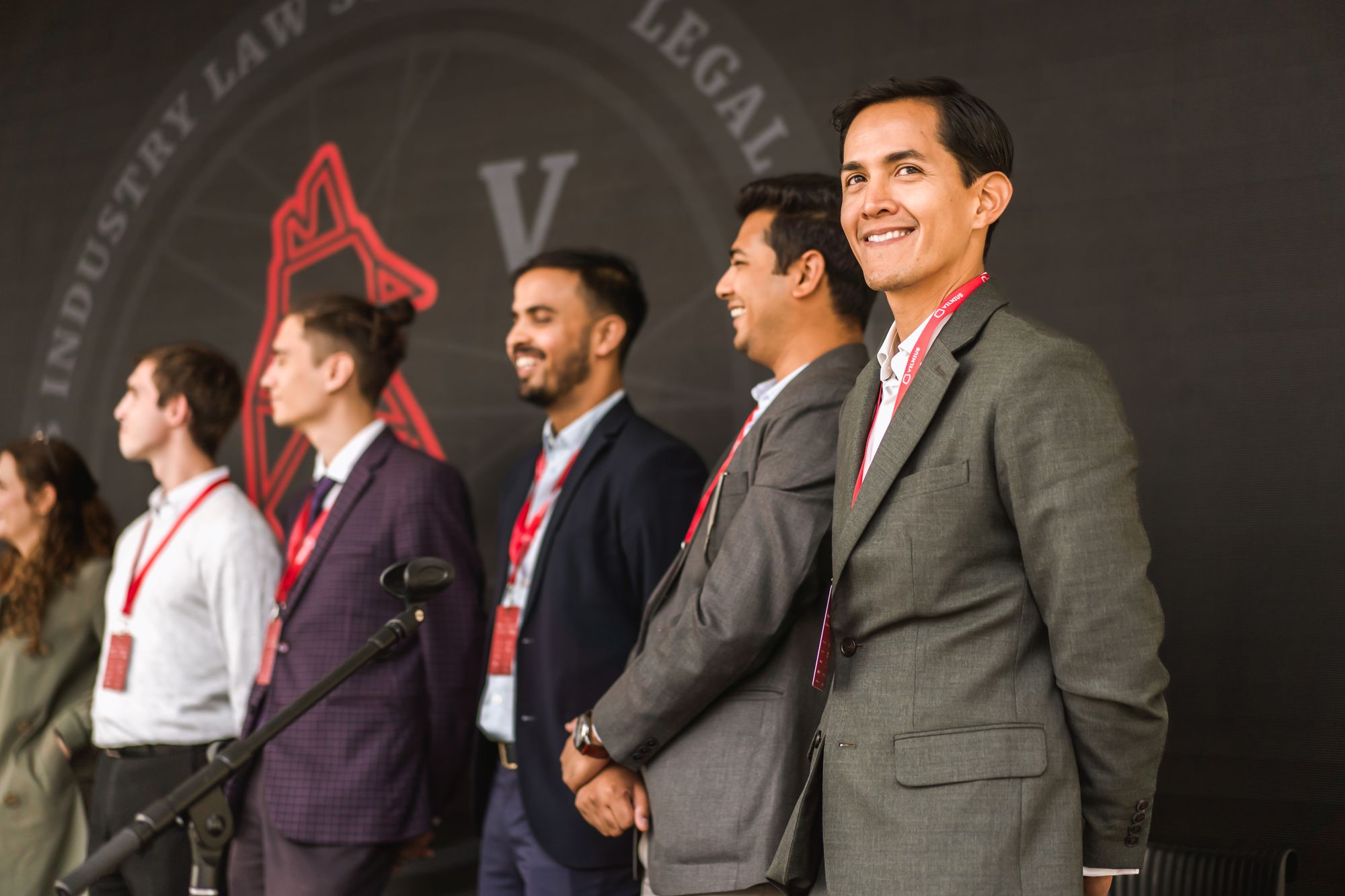 Historically, a lot of folks from the winning teams ended up working at studios or at law firms with a heavy focus on the games industry. As one of the judges said, "first you meet them at this moot court – then you see them again, negotiating a deal with you". Throughout the competition, we provide visibility to the participants – which helps a lot, if you're looking to join the industry.
The registration fee is just a formality (€50), and the moot court is open to all law students and law school graduates (no limit on how recently you must graduate). A team can have between 1 and 3 people, and may rely on a coach for advice (but not for actual content).
The rules are here, and the timeline is here.
➡️ To register a team, please go to LC's website.
The registration is from today and until January 12, 2024. We expect 20-25 teams from about 10 different countries to apply, and 15-17 to actually submit the first memo. The submission dates are January 19 (Claimant) and February 16 (Respondent). On March 5 we will announce the top 4 teams, the semifinals are March 19-20 and the finals are March 22, 2024. Et voila!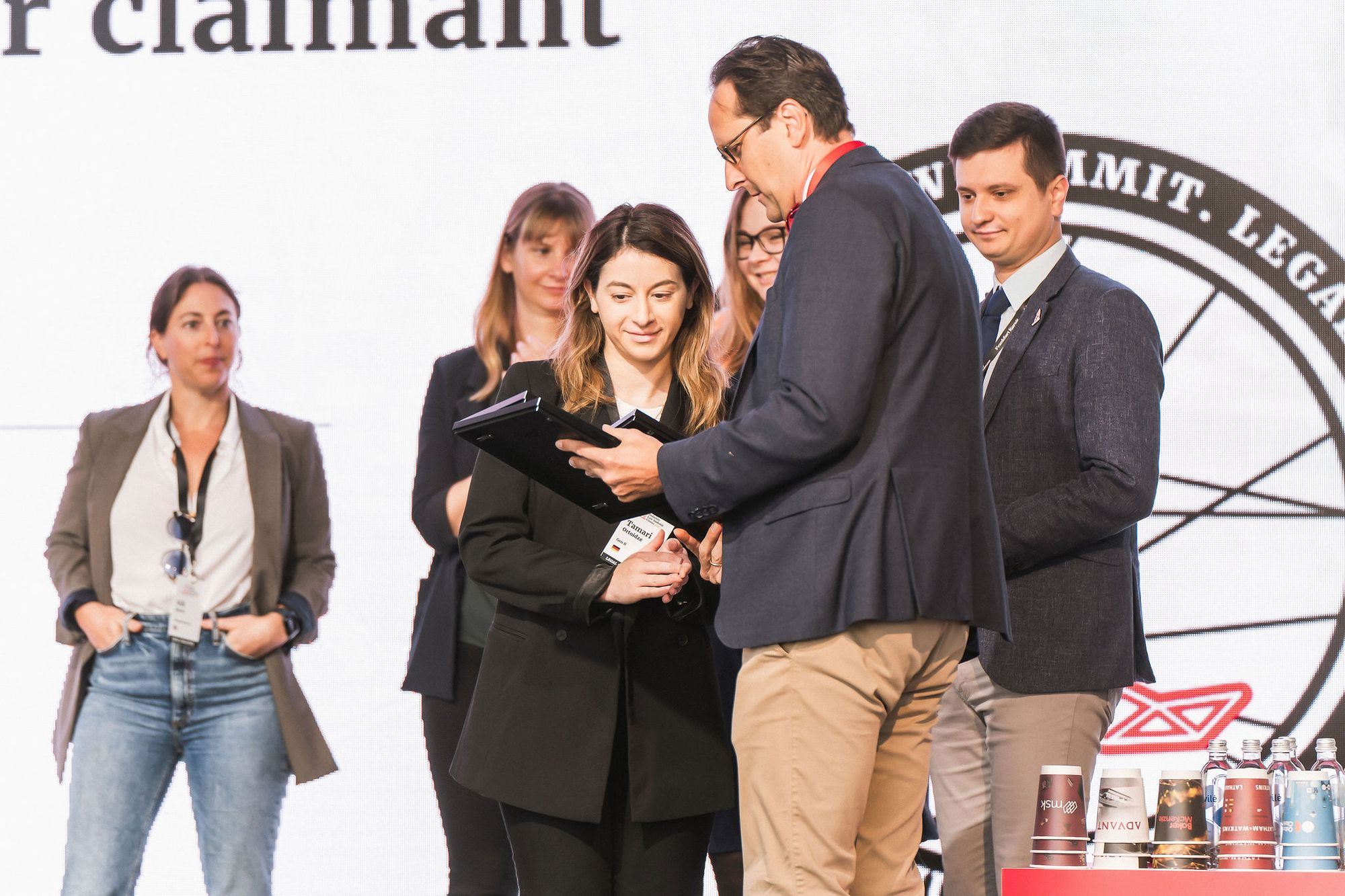 Clarify Frames vs Fungaming
This year's case has the following themes:
a contractual dispute;
a question on the applicability of trade restrictions; and
issues related to competition law.
In other words, a regular day at any global games studio, i.e. a pretty big mess that impacts millions in revenue, and creates quite a lot of confusion.
The story is built by this year's Case Committee: 🇪🇸 Alexandros Alexandrou (EUIPO), 🇨🇿 Roman Romanovsky (Wargaming), 🇨🇾 Darya Firsava (Wargaming), 🇨🇾 Tamara Sakolchyk (Epic Games) and 🇱🇹 Katya Nemova (Wargaming).
So what really happened?
Fungaming (headquartered in Terryland) is the developer of Biopunk Funk, a game created on the Clarity engine. Fungaming entered into a licensing agreement with the engine's developer and owner, the publicly traded Clarity Frames (headquartered in Obliland), allowing the studio to use Clarity.
Fungaming later granted sub-licenses to its subsidiary studios around the world. Fungaming plans to release Biopunk Funk with the help of a publisher and has already signed a marketing and distribution agreement with Micrando, a leading regional digital games platform.
In June 2023, following a direct armed conflict in Borderlands and a proxy war in Sorrowland, Obliland introduced economic sanctions and trade restrictions on the 🇷🇺 Russian Federation and the 🇨🇳 People's Republic of China.
Soon after, Clarity Frames (1) unilaterally changed the commercial terms of the Clarity licensing agreement and, moreover, (2) informed Fungaming that the studio could no longer sub-licence Clarity to any subsidiaries in territories subject to the new trade restrictions.
With two of its core development studios located in Ufa and Hong Kong and given the impact on the profit and loss of Biopunk Funk due to the change in commercial terms, Fungaming refused the changes.
Clarity Frames sent Fungaming a notification of breach, threatening to terminate the license under the terms of the agreement. Fungaming filed a lawsuit against Clarity Frames seeking a declaratory judgment, claiming that the unilateral change of terms is unlawful and anti-competitive.
Some more details
The whole case (including all the exhibits) is here.
But since you may not have the time to download it, here's the main story, just to show you how industry-focused this year's case is (skip to next section for the details of this year's Judge Panel):
1. In 2011, Clarity Frames released the first iteration of their engine Clarity. The engine was marketed as a complete, user-friendly creative toolkit that provides game developers with a one-stop solution for creating a modern cross-platform game. Clarity shipped with a graphics, physics and sound engine, a renderer, a 3D modelling and animation system, a robust artificial intelligence library, and an asset creation toolkit.
2. As a newcomer to the market and facing tough competition from several entrenched global tools providers that have managed to completely dominate the games industry's tech space in the past 20 years (Youdobe® and 3D Tech Max Digital®), Clarity Frames initially offered access to their engine under rather competitive licensing terms described by industry experts as "gentle". To developers willing to create and publish their games on the Clarity engine, Clarity Frames provided full access to Clarity in exchange for 2.5% in royalties based on the monthly gross revenue generated by their game (without any deductions except for taxes), provided that the game's lifetime gross revenue exceeded $2,500,000 (USD), and with the first $ 2,500,000 in gross revenue being royalty exempt.
3. By 2015, Clarity established itself as one of the best game development suites and became the go-to video game engine for small and large developers (from the British 🇬🇧 Facekick to the Polish 🇵🇱 12 Bit Studios). Over the next years, numerous Claritylicensees released their video games to great acclaim and praised the "…fantastic tools that allowed developers to express their creativity without limitation; players now know and expect that by using Clarity, games will be bug-free, graphically rich, and deeply immersive."
4. Having received numerous industry awards, and seeing the continued increase in its stock price (it's listed on 🇵🇱 WSE), Clarity Frames kept innovating and expanding Clarity's capabilities with each new iteration, adding development support for additional platforms, upgrading multiple components, and keeping up with industry trends. In 2019, after becoming the biggest software development company in the video game industry, Clarity Frames headhunted and appointed Woland Rimsky as its new CEO, a video games industry legend (an executive with humble beginnings in the ice cream industry, who rose through the ranks to become the most sought-after expert known for teamwork and gentle, respectful language, as well as a passion for private jets).
5. In March 2020, in a press release issued to Pixel Perfect, one of the biggest video game and entertainment websites, Clarity Frames announced the release of the latest iteration of their video game engine, Clarity 5.0 (Exhibit 1). The new iteration of the engine offers additional features and new AI-assisted tools that seek to optimise development workflow and reduce production time.
6. Fungaming is a video game developer and publisher founded in Terryland in 2011. Fungaming released its first video game, Surplus Nitro 64, in February 2014. Surplus Nitro is a side-scrolling endless runner mobile game developed for Android and iOS. While relatively unnoticed at first, the game received a lot of publicity after Oynayan Tavuk, a famous Twitch streamer from 🇹🇷 Instanbul, live-streamed the game in late 2014. Following the stream, Surplus Nitro 64 became an overnight success.
7. Fungaming's CEO, Margarita Petracca was a successful game developer who previously worked as the head of production at several studios and served as a board member of TGA, Terryland's games industry association. Margarita joined Fungaming in 2013 and significantly contributed to the development of Surplus Nitro 64 and was instrumental in helping Fungaming expand.
8. In 2017, with multiple projects in development, two of Fungaming's subsidiaries, FG Sardinia and FG Ufa, opened their doors in Italy and Bashkotorstan, respectively. FG Sardinia is responsible for research and development, experimental video game mechanics and design, and FG Ufa is responsible for asset creation and 3D animation.
9. Margarita's passion has always been to develop an online role-playing video game set in a dystopian future. Having successfully pitched Biopunk Funk in 2019 to Fungaming's board, the studio green-lit the game's development under the title Project Funk. However, with no prior experience developing a PC video game, Fungaming searched for a cross-platform engine to accommodate its development needs.
10. In April 2020, Margarita attended the Game Developer's Forum in 🇨🇾 Limassol, Cyprus, where she met Woland Rimsky, the CEO of Clarity Frames. Woland introduced Clarity 5.0 during the conference and showcased the engine's impressive capabilities. Having watched the presentation of the engine, Margarita asked Woland to expand a bit more on the capabilities of Clarity 5.0 and whether it could support the development of an online RPG video game. Over cocktails at the Amathus Hotel, and later at a breakfast at Old Port's Jam café, Woland explained to Margarita that Clarity 5.0 was the perfect fit for developing Biopunk Funk.
11. In May 2020, after consulting with Fungaming's development team, Margarita sent an email to Woland asking whether Fungaming would be able to grant access to Clarity 5.0 to all of its subsidiaries for the development of Biopunk Funk, to which Woland replied positively and stated that Clarity Frames is committed to supporting all the developers (Exhibit 2). In June 2020, Fungaming entered into a licensing agreement with Clarity Frames to develop Biopunk Funk using Clarity 5.0 (Exhibit 3).
12. In September 2020, Fungaming announced that two new Fungaming studios opened their doors in Hong Kong and Buenos Aires. Fungaming gave both FG Hong Kong and FG Buenos Aires access to Clarity 5.0 to support the development and marketing of Biopunk Funk. FG Hong Kong was made responsible for developing the backend code for Biopunk Funk, andFG Buenos Aires was made responsible for creating the marketing material related to the game.
13. Fungaming also greenlit the parallel development of Funky Punky, an isometric rhythm mobile video game with AR/VR functionality based on Biopunk Funk, and asked FG Hong Kong to help port Surplus Nitro 64 (under the title Surplus Nitro 64+) to PC and console. Both projects are currently in development using Clarity 5.0.
14. In 2022, looking to hedge its release strategy, Fungaming entered into a publishing agreement with Micrando, a digital distribution platform based in St. Petersburg, Russian Federation, inked at the Brand Licensing Expo in 🇬🇧 London. Under the terms of the agreement, Micrando received the exclusive right to publish, distribute and market Biopunk Funk, Funky Punkyand Surplus Nitro 64+ in the Asia-Pacific region ("APAC"), Russia, Ukraine, and Belarus, in exchange for a cross collateral 66.6% revenue share from sales in these territories.
15. Micrando, having projected a combined 15-million-unit lifetime sales across the three titles, invested significant amounts in the promotion of these games. The company invested $1,500,000 (USD) in Biopunk Funk merchandise (Exhibit 4), $2,500,000 (USD) in the promotional campaign, and entered into an endorsement agreement with Oynayan Tavuk, paying the streamer a lump sum of $300,000 (USD) to promote Fungaming's games online (the costs of Oynayan's trips to 🇨🇳 Shanghai and 🇷🇺 Irkutsk were to be paid on top of this budget, as well as the costs of private language tutoring in Mandarin and Russian).
16. In June 2023, as Fungaming was preparing to release a public beta for Biopunk Funk, Obliland announced the imposition of economic sanctions and trade restrictions on the 🇷🇺 Russian Federation and the 🇨🇳 People's Republic of China (Exhibit 5). Clarity Frames published a statement announcing that it intends to observe the trade restrictions fully, and immediately halted all new sales and the provision of services and software in the affected regions.
17. Soon after, Clarity Frames sent a notification of amendment to Fungaming (Exhibit 6), informing them of amendments made to the license agreement to comply with the recently announced sanctions. As part of the amendment, Fungaming was no longer permitted to sub-license Clarity 5.0 to its studios in the affected regions, nor distribute Biopunk Funk in Russia and/or China. Clarity Frames also increased the royalty rate to 10% of the gross revenue and lowered the threshold for when royalties become payable to $1,000,000 (USD) in lifetime sales for all licensees.
18. These changes surprised and upset Fungaming. Margarita reached out to Woland to explain how catastrophic the amendment would be for Fungaming, especially because Fungaming's subsidiary studios are its core developers supporting the development of Biopunk Funk, Funky Punky and Surplus Nitro 64+. For these reasons, she explained, Fungaming did not accept the amendment to the original agreement and informed Clarity Frames that they would continue providing access to Clarity 5.0 to all their subsidiaries, as originally agreed between Margarita and Woland. Margarita made a separate note on Clarity Frame's imperialistic attitude towards the developers based in the Republic of Bashkortostan, who already led a challenging life. Fungaming also refused the "absurd" sudden increase in the royalty revenue % by 4 times.
19. Clarity Frames informed Fungaming that they were surprised to learn that Fungaming was providing access to entities other than the ones contained in the original license agreement. They were also surprised to learn that Fungaming is developing two additional projects using Clarity, as the license was exclusively granted for Project Funk. In a notification dated July 17, 2023 (Exhibit 7), Clarity Frames informed Fungaming that it was in a material breach of the license agreement and was given 30 calendar days to remedy the breach. Otherwise, Clarity Frames will exercise its right to terminate the license agreement.
20. On July 24, 2023, and facing increased pressure from Micrando to ensure delivery of all three games, Fungaming filed a lawsuit in Obliland against Clarity Frames, seeking a declaratory judgment that:
A) Clarity Frame's unilateral change of terms of the licensing agreement is unlawful and prevents, restricts and distorts competition;
B) Clarity Frame's conduct amounts to abuse of a dominant position in the games industry market, giving rise to unfair trading conditions;
C) The Notification of Amendment of the License Agreement is void and unenforceable, and Fungaming is not in breach of the Clarity License Agreement;
This year's Judge Panel
Judging this case, we have a stellar panel of 15 veterans:
🇨🇾 George Mountis (Chrysostomides) – Presiding Judge
🇺🇸 Karin Pagnanelli (MSK)
🇫🇷 Clara Benyamin (CBLF)
🇮🇪 Boğaç Erozan (Riot Games)
🇵🇱 Monika Gebel (People Can Fly)
🇮🇹 Luca Guidobaldi (ADVANT Nctm)
🇩🇪 Felix Hilgert (Osborne Clarke)
🇸🇬 Meryl Koh 许君宁 (Drew & Napier)
🇿🇦 Pieter Koornhof (24 Bit Games)
🇵🇱 Anna Kruszewska (HRP)
🇬🇧 Kostya Lobov (Harbottle & Lewis)
🇨🇳 Yue Lu 卢月 (Pillar Legal)
🇺🇸 Christine Morgan (Reed Smith)
🇲🇽 Efrain Olmedo (Santamarina y Steta)
🇨🇳 Tracey Tang 汤擎 (AnJie Broad)
As you can see, Legal Challenge is a moot court about games industry matters, judged by the lawyers with active, everyday practice in the games and IP.
Action points
If you're a part of this community and would like to help the industry discover new talent, please share this event with your network?
And if you're a young lawyer looking to compete in this year's event, please register the Legal Challenge's website.
We look forward to seeing a fresh crop of lawyers argue this year's case, and may the strongest team win!
/sergei @ CO